DAF Trucks is showing three multi-axle variants from its XF and CF ranges at this year's Tip-ex Tank-ex show in Harrogate. The three trucks, all on loan from local, high-profile operators cover rigid and tractor variants with a broad range of engine / driveline configurations covering principal construction market sectors.
The 2019 show also sees market-leader DAF Trucks move its display stand to a new location adjacent to the Majestic Hotel Lawns. Visitors will be welcomed aboard DAF Trucks' impressive Showtrekker hospitality trailer where representatives from DAF Trucks and its local DAF Dealers will be on-hand to share views and offer advice on DAF products and services.
CF 450 FAX – 8×2 Tipper-Grab
Show vehicles include a new CF 450 FAX 8×2 rigid with steel tipper bodywork from Thompson and Epsilon M125L grab equipment, supplied by LC Vehicle Hire. Powered by the top-rated MX-11 at 450bhp, this increasingly popular 8×2 rear-steer axle configuration is the first of its type for the well-known Leeds-based operator. DAF Trucks' FAX axle layout offers a truly impressive turning-circle, over and above traditional 8×4 manoeuvrability, to provide a solution for utility and construction operators working in towns and cities. Specification includes 12-speed TraXon automated gearbox, Day Cab, Truckphone and LED rear lights.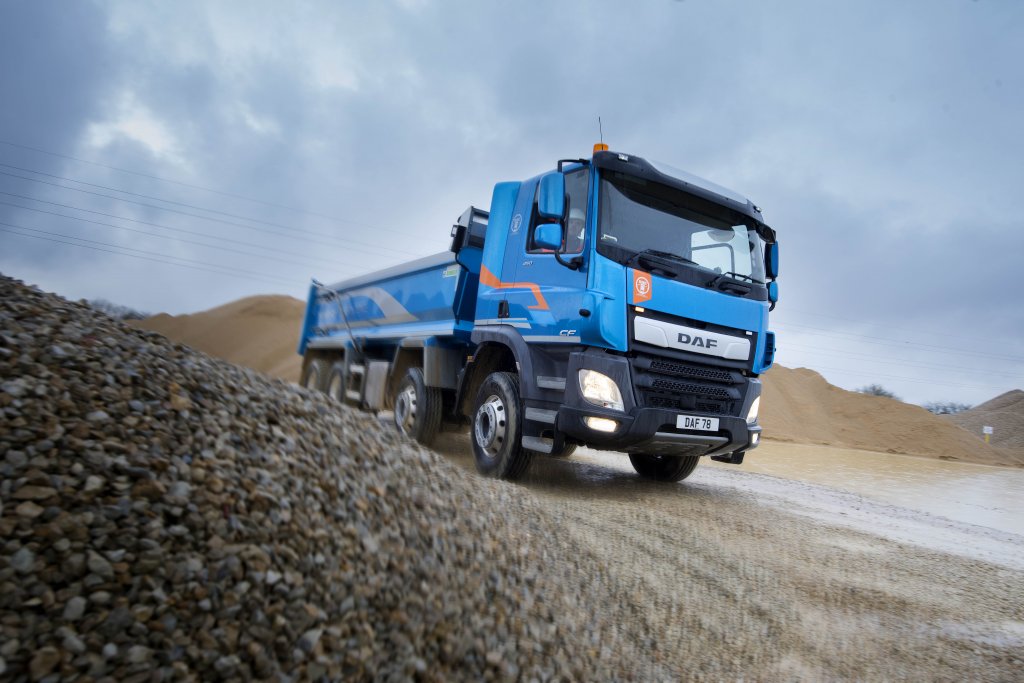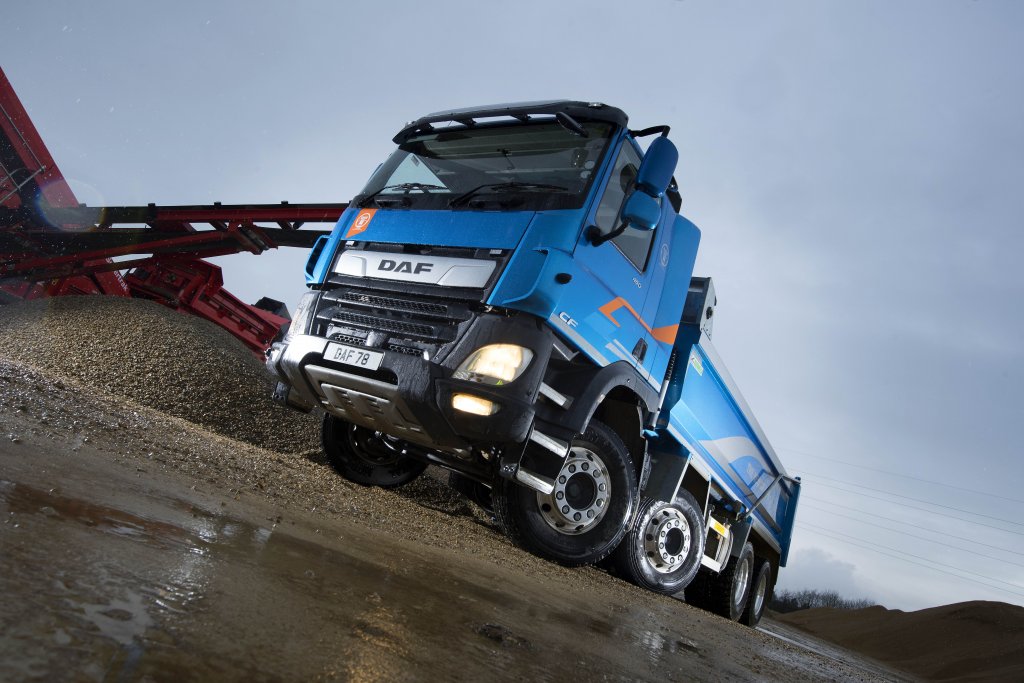 CF 410 FAD Construction – 8×4 Tipper
The CF 410 FAD Construction 8×4 is the mainstay of DAF Trucks' four-axle rigid range for construction and utility applications. On display courtesy of another familiar Leeds-based operator, RJ Howard, this rugged, reliable eight-wheeler is one of five recent CF Construction tippers supplied by DAF Dealer Evans Halshaw. An MX-11 410bhp engine is twinned with a 16-speed manual gearbox, 340-litre fuel tank, disc brakes to the rear axles, LED rear lights and aluminium air-tanks. Tipper bodywork is supplied and fitted by L. Townend of Holmfirth.
This CF Construction (N3G variant) model from DAF Trucks offers a significant 250kg payload benefit over its CF predecessor. Weight savings are achieved predominantly with an SR1132T single-reduction tandem-axle fitted with disc brakes, a redesigned exhaust after-treatment system, aluminium air-tanks and a redesigned steering system.
The FAD 8×4 axle configuration is also available as a dedicated Mixer chassis, offering significant weight savings for payload-conscious customers.
XF 530 FTG – 6×2 Tractor
DAF Trucks' top-of-the-range tractor unit, the XF 530 FTG is a premium duty 6×2 with mid-lifting and steering axle, and is ideally suited to bulk-tipper applications. DAF Trucks' Tip-ex Tank-ex show exhibit is brought to Harrogate by Ian W. Bentley Bulk Transport. The top-rated MX-13 530bhp engine provides ample power at 44-tonnes GCW and is coupled to the 12-speed TraXon automated gearbox. As a flagship unit, the XF Space Cab is adorned with Hi-Bar and Lo-Bar lighting from Kelsa, Alcoa Dura-bright alloy wheels, 490-litre fuel tank, Rustica interior trim, luxury driver's air-seat, 'Xtra' comfort mattress, axle load monitoring. Wet-kit and additional catwalks are supplied by S&B Components.
Experts from DAF Trucks will also be available throughout the show to present and describe the company's extensive customer support portfolio, including DAF Connect, an online Fleet Management system, and DAF Fleet Services, DAF Trucks' comprehensive maintenance support package to support major fleets operating across multiple locations to ensure whole-fleet compliance and to maximise vehicle uptime.
DAF Trucks will also promote its new driver training voucher scheme. Upon acquiring their new CF and XF vehicles, all retail customers' drivers will be entitled to professional driver training courtesy of 25 dedicated DAF Dealer Driver Trainers located throughout the DAF Dealer network. Approximately 2.5 hours in total, training includes in-cab and vehicle walk-round familiarisation followed by on-road coaching.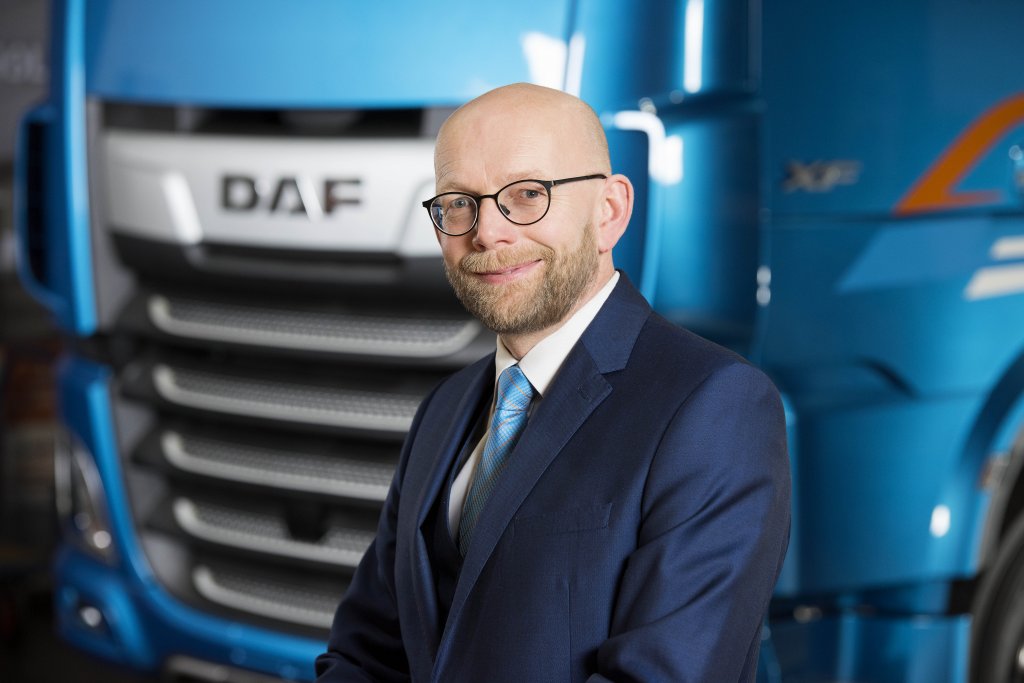 Incidentally, during a recent DAF press event in Southern Spain, Bulk & Tipper had the opportunity to get behind the wheel of some of the company's latest models. For a comprehensive review of DAF's new product offering, don't forget to purchase our July Issue, out very soon!